European Footvolley Championships 2018 – Graz, Austria
22 June 2018
June 6th – June 9th 2018 – Hauptplatz, Graz
So, it's that time of year again. The annual European Footvolley Championships has taken place. This year it was hosted by Austria in the cosmopolitan city called Graz, which is the second largest city in Austria after Vienna.
The historic city of Graz has one of the best-preserved City Centre's in Central Europe. In 1999, Graz was added to the UNESCO list of World Cultural Heritage Sites and then later in 2003 awarded the European Capital of Culture. So, based on this impressive history it's understandable why the European Footvolley League decided it was a perfect venue to host this year's tournament.
The location for the Championships took place in the main square which is called Hauptplatz. Hauptplatz is a large open square that is adorned with shops, bars and restaurant's. The square is cradled among magnificent buildings crowned by the City's Town Hall. It was here, right in front of Rathaus Town Hall that the Footvolley stadium was erected. (See below video)
A view of the stadium in front of the Town Hall.
Here are the UK pairing that competed in this years Championship. Dave Donkin (Left) and Doug Wendel (Right)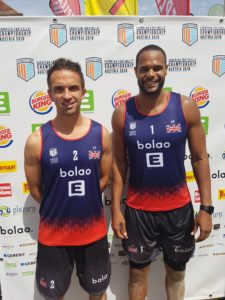 Here is the UK Footvolley President Nick (Left) with the UK number 1 Dave.